Credits
The texts in the anthology were transcribed, glossed, translated and furnished with introductions by approximately 85 students of Leiden University's BA English Language and Culture and MA Literary Studies programmes. In keeping with traditional approaches to anthology attribution, the students' names are included on their individual contributions. Their editions have been shared with written permission as a supplemental and optional part of their courses. All contributors have signed authorship agreements.
Research assistants Amos van Baalen and Eva Kruijt edited the texts, translations, and introductions and contributed supplemental editions for this project. The xml markup for the project was carried out by research assistants Eva Kruijt and Djayla van der Meer.
Most of the TOMES web interface, including most of the javascript, css, and html, was designed and developed by research assistant Eva Kruijt and K. A. Stam. Parts of it, including much of the xslt for the editions and some of the edition css, is powered by TEI Boiler Plate. TEI Boilerplate is licensed under a Creative Commons Attribution 3.0 Unported License. The xml conversion workflow and the TEI schema specification for the project were designed by Krista Murchison; Krista also added the xml dtd and xslt for parts of the website.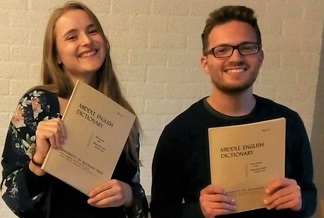 The research assistants received training in xml and xslt thanks to the generosity and expertise of Peter Verhaar at Leiden University's Centre for Digital Scholarship.
The header and footer images were designed by Eva based on Bibliothèque nationale de France, Département des Manuscrits, Français 23279, fol. 58v; the logo was designed by Krista and Eva based on fol. 59v.
The project was led by Krista A. Murchison, who directed it, edited texts, translations, and introductions, supplied additional TEI markup and css, and designed the first version of the website.
Acknowledgements
First, I would like to express my sincere and significant thanks to the student editors involved in this anthology for embarking on this somewhat experimental and unconventional educational project with a spirit of inquiry and enthusiasm--one made all the more inspirational in light of the challenges posed by an ongoing global pandemic. Their dedication to the project, perserverance and sense of humour made working on this project a joy.
Thanks are also due to my former students, especially those in my Middle English literature seminars who participated in, and provided feedback on, the lyric editing projects that helped inspire the development of this project.
Sincere thanks are due to Eva Kruijt. Eva is an exceptionally skilled writer, researcher and editor with a talent for digital humanities, including xml markup and web development. Without Eva's significant contributions to this project, it would not have been possible.
I would also like to thank Amos van Baalen, who has worked with me on the projects that led to the development of this one and who helped see this project through its initial phases. Amos is an excellent editor and a talented researcher and his linguistic expertise and support were instrumental to this project.
K.A. Stam has made many valuable contributions to the website for which I am truly grateful. Djayla van der Meer, who joined the project most recently, helped considerably with the editing and markup and advanced the project in many ways worthy of thanks. I would like to thank the entire project team for these contributions, and for their perserverance during the pandemic.
Several libraries and manuscript collections have made heroic efforts to make their collections more accessible by means of digitization and creative commons licensing and without this significant and ongoing work projects like this one would not be possible. I am particularly grateful to the British Library, the Wren Library at Trinity College Cambridge, and La Bibliothèque nationale de France, whose digital collections supplied the base texts for a number of editions included in this project.
I also want to thank everyone at the Centre for Digital Scholarship at Leiden University for their ongoing support. For this project I am especially grateful to Peter Verhaar, who has kindly shared his expertise and offered xml training to the research assistants on this project.
My colleagues and friends in the English department and literary studies programmes of Leiden University have been an ongoing source of kindness and encouragement. For support with the administrative aspects of this project I am grateful to my research institute, LUCAS, and especially to Ylva Klaassen, Jan Pronk, and Prof. Sybille Lammes.
I am endlessly grateful to the Dutch Research Council for the Comenius Grant that enabled the development of this project and for the organization's longstanding commitment to supporting educational innovation.
Krista A. Murchison
How to Cite This Site
Chicago Style (Footnote):
Medieval author's Forename Surname, "Title of the Text," in The TOMES Anthology, edited by K. A. Murchison et al., last modified March 19th, 2021, https://openmedieval.leidenuniv.nl/.
Chicago Style (Bibliography):
Medieval author's Surname, Forename. "Title of the Text." In The TOMES Anthology, edited by K. A. Murchison et al. Last modified March 19th, 2021. https://openmedieval.leidenuniv.nl/.
This work is licensed under a Creative Commons Attribution-NonCommercial-NoDerivatives 4.0 International License.